The Little League Challenger Division was founded in 1989
An adaptive baseball program for individuals from ages 4-26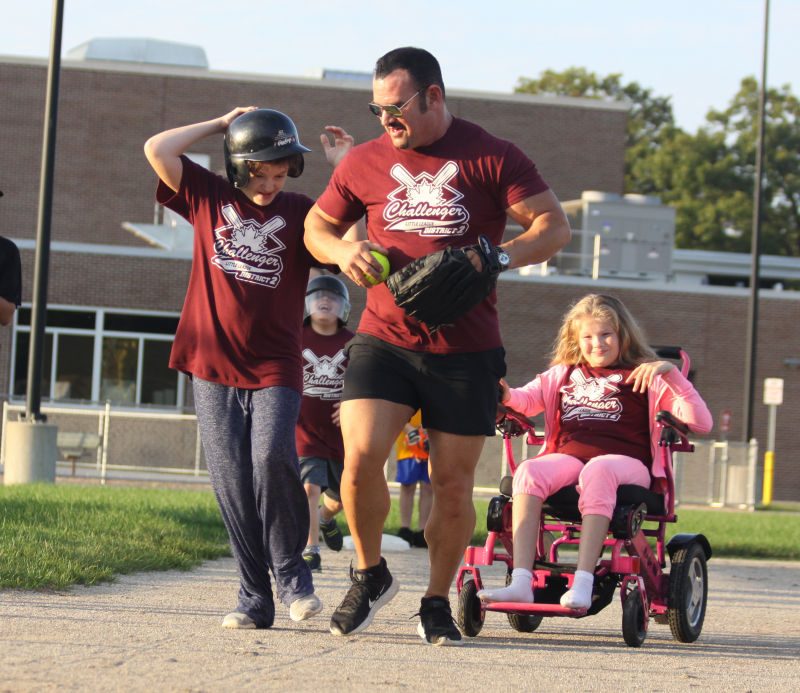 Our Kalamazoo, District 2, Challenger Little League teams are set up according to ability, rather than age, and can include as many as 15-20 players. Our games are played on the Ryan Walker field as part of the Milwood Little League. Our games are played as a combination of t-ball and coach pitch. Our league enables every child, regardless of ability, the opportunity to participate in a structured athletic program which helps to promote and strengthen self-esteem, disciplines of teamwork, citizenship and fair play- which are hallmarks of the National Little League Program.
​Currently, District 2 consists of 2 teams in each of the following divisions:
Advanced
No Buddy assistance needed; Coach pitch
Intermediate
Some Buddy assistance needed; Coach pitch
Beginner
More Buddy assistance needed: Combination of tee hitting and Coach pitch
Challenger Little League of Kalamazoo is mostly funded by the kindness of our community and sponsors.
Donations help to keep our player registration fee low and affordable for parents, while providing players with uniforms, equipment purchases, and field maintenance.  We recently made upgrades to our field at Milwood Little League, that gave our wheelchair players greater access to the fields. Thank you for your support of Challenger Little League. We invite all of you to come see for yourself, how amazing our players are and how much Challenger Little League means to them.
There are no upcoming events.
Frequently Asked Questions
Games are played on the Ryan Walker field, at the Milwood Little League Field, located directly off the Handicap accessible parking area at far east end of the lot.
The games last about 1.5 hours. All parents are REQUIRED to remain at the field at all times during games and practice to support their player.
Helmets are provided to each team in a variety of sizes. If a player prefers and/or needs to have their own helmet, parents will be required to provide it.
Beginner Level: Players are assigned Buddies for assistance in throwing, fielding, batting and running the bases.
Intermediate Level: Players are encouraged to be independent by running the bases with little assistance (as necessary). Although, batting off of the "T" is allowed.
Advanced Level: Game play follows closely to the traditional rules of baseball. Players are expected to play, bat and run the bases independently.
The fields are level and well-manicured. Handicap accessible parking is available directly in front of Ryan Walker field. A paved walkway leads to each dugout. Wheelchairs and/or walkers are encouraged for any player with mobility challenges. Buddies will be assigned to support a player's mobility needs. Baseball "T's" are available at the beginning and intermediate level.
Practices are scheduled weekly for players. The Beginner Level and Intermediate Level teams practice together with the Advance Level practicing separately. Players will be at bat for a period of time with the remaining players located on the infield and out field. Again, parents are REQUIRED to remain at the field at all times during games and practice to support their player.
Games are played on Friday evenings (Advanced Level) and Saturday mornings (Beginner and Intermediate). Beginning the first weekend after Opening Day until the last weekend in June. There are no games played on Memorial Day weekend.
None. We are funded by Sponsorships and the Annual Player fees. Occasionally, the Challenger Little League will sell T-shirts and/or Hoodies for a few dollars above cost to raise money, which is organized by the Board Members of Challenger Little League. The Challenger Board also works with the Battle Creek Bombers and the Kalamazoo Growlers to set up fun family fun nights, where they donate back to our organization. No one is required to sell candy and/or other items door to door.
Games are scheduled to begin on time. We encourage you to arrive at the ballpark at least 15 minutes before the game to allow your player some transition and "warm-up" time. As soon as your family arrives, your player should enter the field area and check in with one of the coaches. If your player's Buddy is not present, a coach will assist you in finding another adult, if available. If one is not available, you will need to assist your player on and off the field.
We understand that it is much more fun to hit the ball than to stand out on the field and wait for a ball to be hit to you. If your player does not want to go out to the field during the defensive part of the inning, they will not be able to bat the next inning. We are trying to teach our players the entire game of baseball, not just parts to pick and choose what they would enjoy. This is another reason that we require parents/guardians to stay at the field, to assist the Coach or the Buddy when issues like this may arise.
The coaches are on the field at all times or behind the plate. This is where the Buddy becomes so important. The Buddy will help the player bat, whether pitched to or hitting off of a tee. In the Beginner Level and Intermediate Level, each player gets five pitches from their coach to try to hit. After those five pitches, the batting "T" is brought out so the game keeps going in a timely manner. The Buddy also helps the player in the field to assist in catching the ball. If the ball is hit towards a player and they do not make an attempt to field the ball, the Buddy stops the ball with their foot and encourages the player to get the ball and throw it to the appropriate base. Players with severe impairments will have the Buddy pick up the ball, place it in their glove, then take the ball and throw it for their players, giving the player a sense of actually fielding the ball.
Check our website at www.challengerkalamazoo.com. Or call the Challenger Kalamazoo weather phone: (269)271-9100 Coaches will NOT be contacting parents/guardians for any cancellations.
Challenger Little League Sponsors
None of this would be possible without the support of our sponsors.  Their generosity helps provide the resources needed to run Challenger Little League.